Waterproof technology for hearing instruments – Subject to be solved

Hearing instrument is the most helpful for the people with hearing loss to communicate with conversation. It, however, was the fact that there were several situations for hearing instruments not to be used in the life, which were related to water and liquid, such like taking shower and bath, washing the face, playing sports etc.. Hearing instrument is the precision electronic device with many of miniature parts in a small limited space, and a very small amount of water may cause a trouble.
Rion challenged to solve this problem as the first developer in the world in 1980's. Rion made much efforts to actualize it for the users to use hearing instruments in any situation, and the following subjects had to be solved.
1. To actualize waterproof with keeping good acoustic performance
The basic idea of waterproof is to make sealing structure with standing up to the determinate water pressure, but the acoustic performance must be kept. So the special designing was required to keep the loudness of sound but with sealing structure.
2. To actualize waterproof with user-friendly operation
It was needed to keep users' operation (switches, volume controls and battery change) smoothly with waterproof.
3. To actualize waterproof with miniaturization
Miniaturization is another important subject as same as waterproof. The designing to actualize both waterproof and miniaturization were required.


Rion successfully developed the waterproof hearing instrument to be used in various situations in daily life, including taking shower and bath, washing face etc.. For example, the people with hearing loss could swim in pool with wearing hearing instruments. It could be available for the hearing instruments users to extend the stages and ranges of activities.
For this result, Rion hearing instruments, called Rionet, were known in the world as the pioneer of waterproof hearing instruments.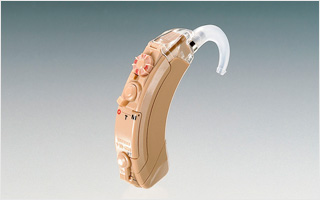 Waterproof behind-the-ear hearing instrument: HB-35PT